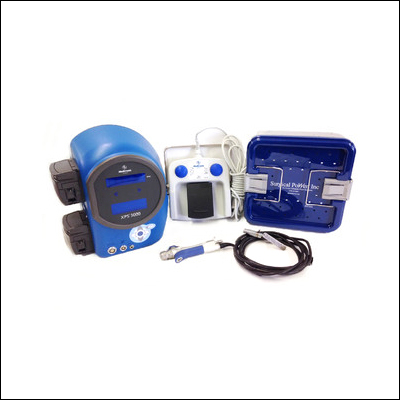 Medtronic XPS 3000 Microdebrider
Product Description
Medtronic XPS 3000 Microdebrider
The provided meditronic xps 3000 microdebrider consist of power control console, footswitches and connection cable. This microdebrider comes with high performance connector for data exchange for further examination in future. The multifunctional footswitch of this microdebrider helps to control speed of blades, drills, and rotational mode. This microdebrider is used for removing stromal tissue from hypertrophied inferior turbinate. It is also used in ENT surgery for removing soft tissue, hard tissue and bone. The finger wheel of this microdebrider allows surgeon to rotate the cutting tip straight and curved direction. This meditronic xps 3000 microdebrider provides more comfortable access to sinus and airway anatomy.

Product Details:
| | |
| --- | --- |
| Minimum Order Quantity | 1 Piece |
| Brand | medtronic |
| Model | XPS 3000 |
| Usage | Hospital |
Description
We are supplier of Used/Refurbished Medtronic XPS 3000 Debrider system. The XPS® 3000 System consists of a power control console, footswitches, connection cables, and assorted hand pieces to drive various burs, blades, drills, rasps, and cannulae.
XPS® 3000 CONSOLE
Provides power to the selected hand piece. In addition to the Straight Shot M4 Microdebrider and Visao High-Speed Otology Drill, the system console also powers the Straight Shot Magnum and Magnum® II hand piece, Power (High Speed Drill), Excalibur Hi-Torque and Hi-Speed Drills, and Skeeter (micro drill) hand pieces. It includes an integrated irrigation pump for irrigation of blades and burs and a second pump (optional) for motor coolant of the Visao™ High-Speed and Excalibur Hi-Speed Otology Drills.
FOOTSWITCH
The Single Function footswitch controls speed; the Multifunction footswitch controls handpiece speed, rotation mode.
M4 MICRODEBRIDER — Features a finger wheel that allows the user to rotate the cutting tip of specially designed straight and curved rotatable blades. It is also compatible with non-rotating blades and burs. It includes a locking mechanism to prevent inadvertent rotation of non-rotating blades. The lightweight design combines high power and precision performance and can operate in forward mode of 12,000 rpm for bur operation and 5,000 rpm in oscillate for blade operation. The StraightShot® M4 also provides irrigation tubing management grooves to keep tubing out of the surgeon's way during a procedure.de, and footswitch mode.
Features and benefits
Medtronic's XPS 3000 with foot pedal.
Precisely excising bone from the nasal crest in a frontal sinustomy with an irrigated curved bur at 12,000 rpm
Removing sub mucosal stromal tissue from hypertrophied inferior turbinate
Endoscopically debunking laryngeal and tracheal tumours
Specifications
| | |
| --- | --- |
| Dimensions and Console | W=10-1/2" D=12" H=11-1/2" |
| Manufacturer | MEDTRONIC |
| Input VAC | 100-240V, 47-63Hz |
| MANUAL START STOP BUTTON | In the case of footswitch failure intraoperatively, button allows circulating nurse to manually turn hand piece operation on and off. |
| DB-9 CONNECTOR | Connector for future data exchange |
Contact Us
B/6 Vrajbhoomi Flats, Beside Hira Moti Market, Nr. Jaihind Cross Road, Maninagar, Ahmedabad, Gujarat, 380008, India
Phone :+918037261583